It's April already, and I'd like to think after the end of last year, things are finally getting back to normal.  Yesterday, myself and Grete went out and bought a sofa (actually, a pair, a 3 seater and a 2 seater), to replace the ones we've been using ever since Grete's parents gave them to us.  Before that, we used the other sofa and chairs that Grete's parents gave to us.  This will be the first time, since we've been married (1998) that we've owned a new sofa.
We almost went for just a 3 seater and one armchair, but we do every now and then have company, so a 3 and a 2 it is.  Not that much more expensive, the armchair is 2/3rds the price of the 2 seater anyway.  Delivery 'up to 7 weeks' but hopefully will be faster.  Although Grete did an amazing job with the sofa covers a couple of years ago (turns out, it's more like 2 1/2 years), it's finally time to accept that we need to replace them.  The small two seater is okay, it doesn't get much use, but the 3 seater is dead.  The cover Grete made is worn through in places, and I spend most of my time re-adjusting it after it gets scrunched up from a few hours use.  The sofa has a duvet on it, under the brown cover, just to give the cushions some padding.  It's dead, it needs to go, and we were pleasantly surprised that it didn't cost the earth to replace.
Now I just need to work out how to get the 2 out of the house without killing either of us, and hope the delivery guys can get the 2 new ones in. I know they can, because clearly somehow we managed to get the 2 existing ones in, but it's the kind of thing I worry about.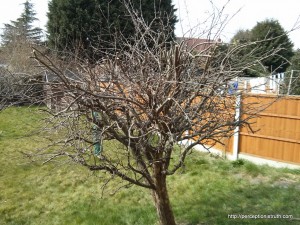 I had a couple of weeks of holiday at the end of March, and had hoped to get into the garden to start tidying it, but the snow kind of put paid to those plans.  This weekend however, has been glorious, so rather than waste it, I went out today and finished the apple tree pruning that Grete started a few weeks ago.  I don't know if the tree will survive, but at least we'll be able to see out of the kitchen window for most of the summer.
As Grete suggested, it'll probably generate a bumper crop of apples this year, just to annoy us.
Have to say finally getting out into the garden and getting something done really helped clear the winter funk out of my head.  I love Autumn and Winter, but it's nice to finally get some decent Spring weather and get started.  Check back in during the Summer when I traditionally lament how much I hate gardening.