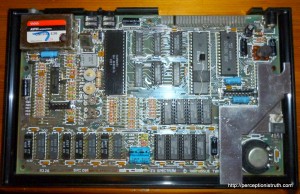 I haven't touched the Spectrums for a few days, the blog posts over the last couple of day were written at the start of the week and then just auto-published each day.  Today though I've got plenty of time on my hands and thought it was time I took stock, literally.  By the time I wrote this blog post, I had 5 Sinclair ZX Spectrums in the house.
Pretty worrying, considering I only discovered my desire to own one around the second week in September 2012.  It's now only just nearing the end of the first week in October.  Those five have ballooned to seven!  Well okay, perhaps not ballooned.  I bought another two rubber key 48K speccies, one which was for parts only for a few quid and another which was on buy now, no postage charges, and was described as in working order, which felt like a bargain (£15 is the minimum I'd expect to see a known working Spectrum go for, before postage, on eBay).
In those 3 or 4 weeks, I've built a cable, bought a second hand portable TV, discovered how to load games from MP3, replaced a keyboard membrane, and generally immersed myself in the retro world of Sinclair computers.  So I thought it was time to finally review what I've actually ended up owning.  At the same time, I wanted to record some details of the Spectrums, because there's a guy who is collating a list of known Spectrum serial numbers (no one's sure if they mean anything) over at World of Spectrum, and I wanted to send him the info for mine.
I also wanted some better photographs of the contents of the machines, and I'm going to revamp the Retro Computing page with a sub-page for each microcomputer.
So yes, we're up to 7, and here they are listed by serial number (not in any order),
£15 – sold as 'working' but in fact, doesn't. Keyboard not connected, and output is solid black / crawling black square.
£17 (box, power supply) – sold as working, but keyboard membrane was broken. Now repaired, otherwise very good condition.
£9.38 – excellent condition
£3.70 – case is scratched, but otherwise okay condition
£7.50 (including printer, dK'tronics interface, 2 joysticks) – case is in bad condition, rest is fine.
£3.53 – bought non-working as parts, no viable display output and case is in terrible condition.
£0.99 – bought in unknown condition, UHF modulator looks damaged, composite output from 8pin DIN is dirty but usable.
Reading back, I think it's safe to say that with retro computers from 30 years ago, you do not get what you pay for and buyer should always beware!  I'm happy overall with the pile of stuff I have so far (I haven't listed the random peripherals and power supplies), but if I'd been trying to just buy one working Spectrum on a budget, I would have been disappointed (I'm sure the ~£50 boxed ones work fine – probably).