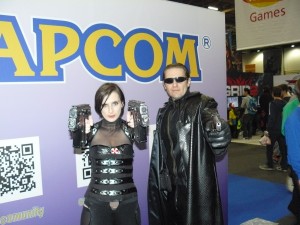 In 2013 I went to London Comic Con for the first time.  Other than a couple of small gaming conventions years earlier it was my first 'fandom' convention.  I took my trusty bridge camera with me and while my wife and her friend shopped, I walked around and took a lot of pictures.
A lot, of pictures.
I got home after an exhausting day and looked through the pictures and I was really pleased.  I had some great shots of some great costumes, and good reminders of the day.  I picked out 80 or so of the best and stuck them on Flickr.
At the back end of 2013 I bought a DSLR (a Canon 600D), and I started taking photographs as a pastime rather than just as a way of remembering events.  Although when I set out, I expected to be taking wildlife pictures, I ended up gravitating towards street portraits / candid street photography and other weird stuff.  Wildlife photography is a lot of work, and I just didn't have the time to invest or the patience, to be frank.  Of course, all photography is a lot of work, but you can fit that work around doing other things with some types of photography and not others.
I had great memories of my photos from 2013's Comic Con, so I went back to London in 2015 to take more pictures, with my new camera.  It did not go well.  Firstly, I had a crisis of confidence and just didn't feel like I could approach people and ask them to take pictures.  Secondly, technically the shots I did get were just terrible.  I couldn't work out what I was doing wrong, they were blurry or badly exposed.  I got back very unhappy and looking through the results didn't make me feel any better.  Later that year, I went to Birmingham Comic Con, and tried again, but it was just as bad.  The camera ended up being a dead weight in my hand and despite taking a flash with me, the four of five pictures I did take were terrible.
A couple of days ago, I went back to Comic Con in Birmingham, resolute that I would just take pictures, using the flash and that I would learn from the experience instead of just being unhappy with the results.  I would use it as practice, so when I go to Comic Con in London, in May, I can use what I've learned to try and get some better photographs.  I was partly successful – I managed to stop people and ask for pictures, I tried to frame the subjects better (hard at a Con at the best of times), and I just took pictures and tried not to worry.  The results are okay, they're typical indoor flash style pictures with a lot of people in the background.  They're not as sharp as I'd like, and not as sharp as I know I can get, but they're acceptable.  I was still sad though that they weren't as good as the bridge camera photos from 2013 which I had enjoyed so much.
So I went back to look at those 2013 pictures – and they're shit.  I mean terrible.  Sure, they capture people and memories, but they're technically terrible.  Soft, blurry, grainy, badly framed, they're everything you'd expect from a 'point and shoot and move on' style approach to indoor photography.  Great memories, but technically lacking photographs.  The photo's I took with the DSLR from any of the other cons were technically much better.  Still flawed, but technically superior in just about every way.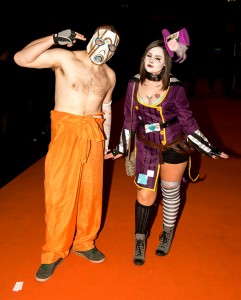 So why was I beating myself up?  Why was I being so hard on myself, comparing my new photographs with superb old ones which didn't even exist?  Because my memory of that day, and those pictures, was all one memory.  I'd gone without expectation or pressure, without any internal critique.  I'd pointed the camera at people I found interesting and took pictures and the pictures I'd taken reminded me of the enjoyment I had.  The pictures were rubbish but the memories were good.
With the other events, I had gone to take pictures and I hadn't enjoyed the process.  The pictures reminded me of the days I had, and how those days were frustrating because I didn't feel like I could do what I wanted to do.
Memories are weird, and shit and unhelpful sometimes.  In May, I swear, I'm going to London Comic Con without expectation or pressure.  I'm going, with my camera, as it happens, to look at interesting people in amazing costumes, and if I get some pictures, all the better, but I'm going first to have fun and to get pictures second.