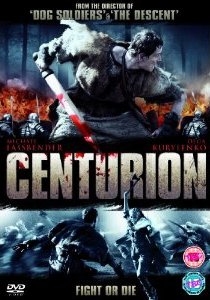 Neil Marshall's output has been a little bit hit and miss for us.  I'm not a big fan of the overt horror in Descent, although I loved the blackly comic Dog Soldiers, and I enjoyed Doomsday despite the flaws.
So I wasn't sure what Centurion would deliver.  Set at the time Hadrian started building his wall, the movie kind of tells the story of the Roman 9th legion.  Kind of, because it's actually about a Roman soldier who's not in the 9th legion, but joins it temporarily.
The legion comes up against the native British Picts, and the movie really covers the results of that encounter.
Centurion contains Neil Marshall's trademark gore.  The hand-to-hand fighting is brutal and blood soaked, there are exploding heads and departing limbs a-plenty.  There is significantly less comedy in Centurion than Dog Soldiers, but it's not lacking entirely.  The commander of the 9th is particularly colourful and his introduction gives us a little glimpse of the magic scenes from Dog Soldiers.  The story in Centurion is pretty simple, a straight forward tale of betrayal with a hint of love.  The depth in the film comes from the incredible breathtaking scenery juxtaposed with the brutal combat and the rigid sense of honour in the lead from Michael Fassbender.
Fassbender is compelling, and his counterpart in the story (the mute hunter played by Olga Kurylenko) provides a worthy adversary.  There's a reasonable amount of tension, and it's never really clear who's going to make it through to the end.  Treachery comes from all angles, while  Quintus Dias (Fassbender) struggles to keep his men alive.
I enjoyed watching Centurion, and while it had some excellent moments, it didn't deliver the constant high quality of Dog Soldiers.  Worth a watch, especially if you're a fan of Roman historical fantasy, probably higher quality than Doomsday but not Neil's best.