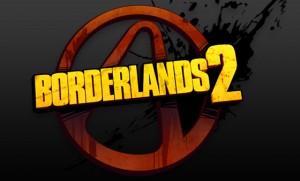 I love the first Borderlands game.  So much so that after completing it a couple of times on the PS3, I repurchased it on the XBox after my Sony-Rage meant I stopped using the PS3 completely.
I was pretty excited when Borderlands 2 was announced and I've been patiently waiting for September to arrive.  Here it is, and Borderlands 2 dropped through my letterbox this morning.
So far – it's excellent.  All the good stuff from the first game and some of the annoying things ironed out.  The biggest difference is the enemy – they're much, much cleverer.  The locations seem more sprawling, if that's possible, and the enemy can turn up from almost any direction.  Locations are significantly more three dimensional as well, with gangways above and below where you're walking.
The lovely cell-shaded-like graphics are still present, and the same dark humour runs through the sequel.
So far, after a few hours of playing, I can honestly say it's the most fun I've had on the XBox 360 since Borderlands 1.
My favourite feature so far – the comments your character makes after a critical head-shot.  Love that sniper rifle.