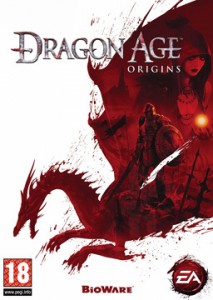 When I wrote the title of this post, I went to search the blog to find the first one I wrote on Dragon Age: Origins only to find I didn't write one (and to be reminded of how annoying the search feature in WordPress is).
So, I guess this is Dragon Age: Origins, Rounds 1 and 2.
As usual, it's a not-review well after the game has been released, played to death by millions, had a bunch of DLC released and is being replaced with a sequel, but hey ho, what can you do.
I've played a few games on the PS3 now, and it's easily earned back the cost in terms of entertainment per pound compared to say the cinema or reading, but two games really stick in my mind in terms of amount of game-play and replayability.  They are Dragon Age: Origins and Fallout 3.  My first play through DA: Origins probably took around 60 hours.  Grete played it a little bit, so probably 70 hours between us.  However, we've both played it through fully again now, so another 60 hours each, that's 190 hours of play out of a single game.  And as I sit here writing this, Grete is starting a new character and playing it again.
That replayability is testimony to BioWare's excellent writing and world building.  The game interface is sometimes annoying, the combat is sometimes a little frustrating, but those issues melt away once you get involved in the story.  Reading the codex entries, listening to the dialog, talking to your companions, actually recruiting the companions and earning the right to do their quests, and learning about the world immerse you in the story so engagingly that you want to see it again and again through a fresh pair of eyes.
I love the subtle touches with the different starting stories, and how they all weave together into the main plot.  As a dwarf, returning to Orzammar to quest there gives you a different perspective than heading there as a human or an Elf, while playing a city Elf makes the quests in the Elven alienage that more poignant.  Seeing how your actions as a starting Mage snowball into serious consequences later on is just excellent.  BioWare really do know how to write engaging and totally absorbing computer RPG's.
The way in which your conversational choices lead to different outcomes is excellent, although you can't help but feel the authors were limited by the complexity of offering too much choice, and like all delicious things it leaves you wanting even more.
Maybe in a few years when storage is even cheaper, processing power even greater and collective software development even better we'll get computer based RPG's with almost as many choices as you can imagine, but until then, BioWare offer the next best thing with Dragon Age: Origins.