Note: As of the 5th August there's an update to this post, after the instagram posts, right at the bottom.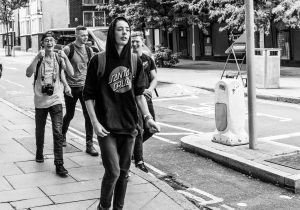 I've been taking photographs in public places (often called Street Photography) for around three years.  I'm as surprised as anyone that I've discovered an interest in documentary, social, street, urban whatever you want to call it photography.  I truly thought I'd take up photography and spend my time pointing expensive long lenses at wildlife, and expensive macro lenses at other kinds of wildlife.  I even blogged about it here.  I'm no good at it mind you, but I'm still putting in the effort and practice and hopefully over time I'll improve.  I don't feel that I have a very artistic eye, and so a lot of my photography is workmanlike, technically okay quality (focus, exposure, framing) but not necessarily always very interesting.
Anyway, that's mostly an introduction.  In the three or so years I've been doing it, I've not had any trouble.  I even took photographs of armed police officers, and had some conversations with them, and never had any trouble.  It can be daunting, pointing your camera directly at strangers in the street.  Of course we don't think twice about taking a photograph of friends or family and getting a few straggling strangers in the background, or taking snaps of attractions or tourist views, and again, catching a few strangers in the frame.  It's different though when you know you're pointing your camera at someone you don't know, and they don't necessarily know you're taking a picture.
I try and be socially aware.  I avoid taking photographs of people I consider vulnerable, the definition of which is mine and mine alone.  I work hard not to take photographs of people 'just because they're attractive'.  I don't take photographs for the most part of isolated children.  I take a lot of photographs in Old Market Square, and there are often kids playing in the water and fountains in the summer months, and I am aware of that and it informs where I point my camera and what I shoot.
However, I also know my rights as a photographer in the UK (but I am not a lawyer, and this is not legal advice).  They boil down to this – and I'm going to state them quite coldly.  I don't need your consent.  If I'm in a public place, and you're in a public place, then in general I don't need permission to take your photograph, or a photograph of your children, or anyone elses children for that matter.  There's a right to privacy within UK law, and that means that in some situations a photograph could be inappropriate despite the notion of it being a public place.  For example, photographing someone entering or leaving a family planning clinic could ultimately be an invasion of privacy.  But, within the bounds of decency and privacy, I don't need your permission.  I do need your permission to use the images for 'commercial' purposes, but again, that's actually a limited range of uses applied to advertising a product or service, or similar use.  I can take photographs all day of people in the street and publish books full of them and never need a model release form.
So I've never had any trouble.
Until today.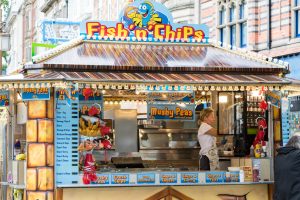 The Nottingham Beach is on again this year.  The council and am event company work together to turn the Old Market Square into the seaside.  There's sand, water, rides, arcade machines, fish and chips, donuts, slushies, ice cream, it's great.  The kids love it, families love it, and it's always busy.  This year is no exception.  I went into the city today hoping it was going to be very sunny with heavy downpours.  I definitely get my best shots when people are surprised by sudden rain and go running.  Sadly for me it stayed dry, although I guess the families preferred it that way.  I hadn't taken any shots of the sand area because there weren't any interesting compositions and it was mainly just families having a good time.
I was speaking to Greté on Facebook messenger while eating a sandwich, telling her about the rides and the food stalls, and I said I'd grab her a few shots so she could see what the place was like.  So I took some of the fish and chip stand, the donut stand, the slushy stall (including a security/event management guy, and the lady running the stall since that were standing in front of it).  I turned, took a couple of the sandy beach, two of the water, and a couple of those inflatable ball things you can stand inside.  I was, as ever, conscious of the kids, and so I took wide angle shots showing the whole area.  I then wandered around a corner, decided not to take a shot of the surf machine (wasn't running) and was about to leave, when I heard someone shout 'oy' behind me.
The guy from the slushy stall strode towards me, shouting, "You can't take photographs here".  I told him I could because it was a public space.  He switched immediately to, "You can't take photographs of kids without their parent's permission".  I said sorry again, but I could do exactly that, although I hadn't been.  By now he was beside me and made his first grab for my camera.  I stayed calm, held my ground, and said that once again, I knew my rights, this was a public space and so I was within my rights to take photographs.  We exchanged those views a couple more times, with him forcefully telling me I wasn't allowed to take photographs of kids without their parent's permission.  He made at least one more grab for my camera during this period.  After a couple of minutes, and me once again saying that I could, he said, "Let's see what the police think then"?  I said I was more than happy for them to be involved.  I think that might have been the first moment where he wondered if he was on the right side of the conversation.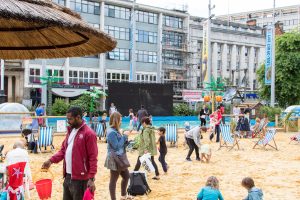 He picked up his radio, but before he could say anything, he caught the eye of an older member of staff who came over.  The first guy explained what had happened, I explained that it was a public space and I was within my rights to take photographs.  The first guy went off on his tirade about me taking pictures of the kids without permission, to which I said I didn't need it but hadn't been anyway.  I then tried to explain four times why I was taking the pictures, that my wife had said she wanted to see what the place looked like.  Each time I got three words into that, the first guy talked over me saying, "What are you, a nonce"?  Eventually, I just held the gaze of the second guy, and he got the first guy to stop talking.
The second guy then asked if I would show him the photographs I'd taken.  I know my rights, he can ask that, but he's got no power to force me to do it.  However, it made no sense not to comply unless I wanted this to escalate further which I didn't.  So I showed him the shots – about 10 of the Nottingham Beach, and then as we went further back doors, doorways, manhole covers, graffiti, you know, the normal kind of holiday snap.  Eventually he said something, I can't remember exactly, but it was clear he'd seen enough and wasn't worried.  The first guy was still unhappy, so I offered to delete the two images I'd taken with him in, I showed him me deleting them, and then I left.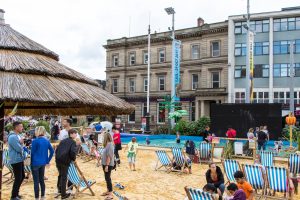 My adrenaline was through the roof, and I was pretty fucking angry.  There are a number of reasons for being angry.  Firstly, 99% of the people in that location are taking photographs non-stop on their mobile phones.  Themselves, their kids, other kids, other people, without a thought in the world, and then posting them straight to Facebook or Instagram or Twitter.  I review every shot I take, and if I'm not comfortable with the content, or think that it paints people in a bad light, I don't post it anywhere.  People with mobile phones sometimes automatically post everything to social media without even a second glance.  Secondly, and related to that, the only reason I got stopped is because my camera is large.  It's not a long lens focally, but it's a physically big camera and lens.  If I'd been using a smaller camera he wouldn't have even blinked.
Street photography is important.  Even in an age where everyone has a camera with them, those cameras are increasingly turned towards the owners.  Even if street photography isn't important, even if my photographs are worthless artistically and historically, they're still mine, and I still have the right to take them.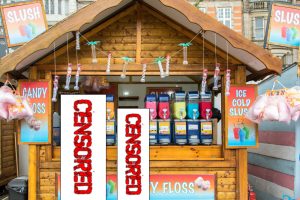 Amusingly, I had completely forgotten that at the start of last week I changed the shooting mode on my camera.  My camera supports two cards, a CF and an SD.  For a long time, I've been using the CF card and running into the SD card only when the first is full, to give me a buffer in case I'm taking a lot of shots.  The SD cards are slower, so I don't want to shoot to them constantly.  However, last week, after watching yet another YouTube video with someone saying 'my CF card died', I switched to dual card mode, where the camera writes a RAW file to the CF card, and a JPG to the SD card.  I had utterly forgotten this as I deleted the JPGs in front of the security guard.  Leaving the RAW files intact on the CF card.  Oh well.
When I got home I did some digging, and I can find no reference to the Old Market Square Nottingham Beach not being public access.  It's possible I'm wrong, and that it's designated as something else during the event.  I can certainly imagine the 'bar area' counts as something special, since it has to be licensed, but I believe I'm in the right about the other areas.  There's unfettered access and no signage to suggest otherwise.  I also went looking for photographs of the beach online, and there are plenty, all of them including plenty of kids in the shots – because of course, the beach is full of kids.
I don't need your consent, but I do have empathy, and I behave in a socially responsible manner.  But I'll defend my right to take photographs in public.
For more information and advice about your rights – check out these links.
Lastly, here's a few links to other photographs of The Nottingham Beach (none of these are mine).  I've avoided including ones taken by parents and then posted publicly to Instagram with close up identifiable shots of their children and other people's children.
https://www.instagram.com/p/BW4cARvnaP5/
https://www.instagram.com/p/BW2rsSXA0ZA/
https://www.instagram.com/p/BWzqN2alEV9/
https://www.instagram.com/p/BWnSR7UHXdu/
You get the idea.
Update (5th August) – since writing this blog post, I've been in touch via e-mail and on the phone with both the event organisers and the agency they use for the staff.  In the first e-mail response from the agency which provides the staff, they lied about the interaction, making claims of events which didn't happen and dismissing those that did.  The conversation on the phone with the individual from the event organisers was more constructive, and I understand his position, when neither side can present evidence he's not able to decide which is true.  In a subsequent phone call from someone at the agency which provided the staff, it was clear that he's going to back his staff, and while he apologised, he continued to use phrases like, "if what you described happened …"
Both of them insisted that they see a lot of suspect people taking photographs, and the police have warned them to be on the lookout.  I don't know how true either of those statements are, but I'm more than happy to be respectfully approached by concerned staff and members of the public.  That's a significantly different position from verbal abuse and potentially common assault.
I certainly won't be spending any money at the event, and if you do go with anything larger than a smartphone, be prepared to justify your presence.