This is the second post in a series of posts covering my injury and subsequent recovery.  You can check out the first part here.  This one's not to bad, but if you don't like to hear about bodily fluids, you probably want to skip the next one (which I've not written yet, but I already know how it goes), and to be fair, most of the ones after that one too.
Day 3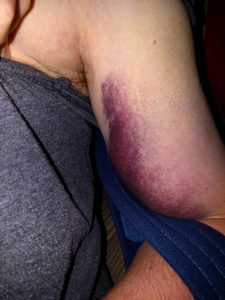 After an uncomfortable night, muted by a lot of codeine, I was up and hobbling around on Wednesday 24th August ready for my appointment at the fracture clinic.  I prefer the Royal Derby Hospital over Nottingham (we live in a place that lets us choose) for various reasons – so we squeezed me back into the car, padding in place, and got there early.  I'm always early.  Usually, very early.  I was once an entire day early for a medical appointment (I had to go back the next day).  Luckily the fracture clinic isn't far from the main car park but despite my protests, Greté made sure I was in a wheelchair rather than allowing me to walk.  I'm grateful now, but at the time my pride was a little fractured too.
The fracture clinic system at the hospital is a bit free-form.  You arrive in the main reception, and sit for a bit, then someone calls your name and you go through to an examination room, and then you wait as long as it takes for the consultant to come and see you.  The nurses seem to be just as confused about what is going on as everyone else, and it felt very chaotic.  However we've been a few times now and I think what it means is that, because people need x-rays or casts and other procedures during the whole appointment, they can basically manage the list of people without being overly rigid.  If your appointment time is 2pm but you arrive at 1pm, you're likely to be seen before 2pm, because there's a gap while a brace of more mature patients are having casts put on, or whatever.  So we were in an examination room pretty quickly, but it took more than half an hour for a consultant to then come and check me over.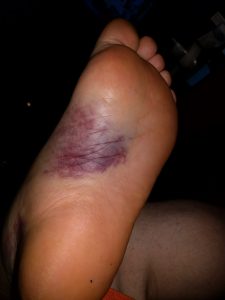 To add to the confusion, we weren't coming in via a normal route.  Normally, you fall over or suffer a trauma, and either go straight to the clinic or get referred immediately by A&E.  We had kind of self-referred a couple of days after the accident, so they had previous notes to look at from another hospital, but no one had done the normal trauma / fracture questionnaires that Derby usually do.
Lastly, as a patient, you tend to get told nothing until the last minute.  We'd not been to the fracture clinic before and didn't really know what to expect, so the waiting was even harder (with or without pain) and people would come, ask questions, and leave and we'd not be sure what that all meant.
However, eventually a consultant came to see me and we went through a few basic questions – and then were immediately sent off to x-ray.  X-raying fractured limbs is painful, because you invariably have to get them into positions they do not want to go into.  I was still blithely and happily standing on my foot when required, but moving my arm around was agony.  X-rays done we wheeled back to the reception and went straight back into an examination room.  What followed was one of the most amusing and yet uncomfortable hospital interviews ever.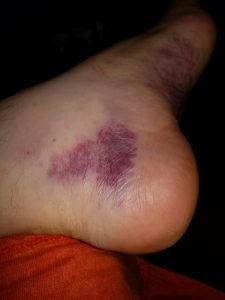 Our consultant had a couple of student doctors with him that day.  He sent them in, telling them to do the regular trauma stuff and he'd be along in a minute.  He obviously got delayed, so we spent nearly an hour in a room with two doctors who knew they were out of their depth making small talk.  We filled in the questionnaire, that they'd never seen before, talking about what the injuries were and where they were.  When it came to the physical examination, they took one look at the bruises and my pained face and didn't bother.  A lot of the questions pertained to serious trauma but they felt they had to ask them anyway.  They were really nice about it, and we had a good chat about lots of non-medical related stuff, but they can't have been enjoying the experience.
Eventually, the consultant arrived having looked over the new x-rays.  He was a shoulder specialist himself, and the delay had been because he was trying to find a foot specialist to review the foot x-rays.  We were about to get the first full and accurate diagnosis, the fourth of the whole process.  The initial nurses had gotten it wrong (can't blame them), the GP was close but ultimately not detailed enough, the Carlisle orthopaedic department were plain wrong, and this guy, as you might imagine, was about to be correct.
The arm was clearly fractured, across the top of the humerus just below the actual ball joint (surgical neck fracture), it was also displaced.  So not dislocated, but not properly aligned either.  Had we not taken any action, it wouldn't have healed correctly, if it healed at all, and I would have been screwed.  The consultant explained I was going to be screwed in a more literal sense, because it needed surgery and fixation (i.e. a plate).  He explained that he wasn't sure if there were any spaces on the next immediate surgery lists, and also explained he'd been trying to speak to the foot specialist, because he was concerned by the x-ray, but he wanted to get a better diagnosis.  After writing up a sick note and giving me a prescription for some much stronger pain relief, he left to do that, and we started filling in (shoulder) pre-surgery questionnaires with the trauma specialist nurse (not sure of her title, but she was doing the admissions stuff).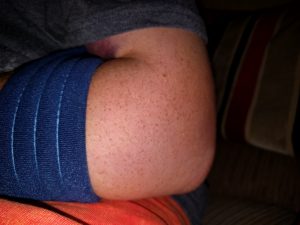 After a standing start, things were beginning to move quite quickly.  I'd gone from being suspicious about the first few diagnoses but assuming I'd be in a sling for a few weeks, to being told I needed quite invasive surgery on my arm at the very least, and that I was going to be admitted to hospital.
Shit was getting real.
We talked at length with the trauma nurse, she cursed a lot at the missing information that neither the consultant nor his students had collected, I completed a surgery consent form for the arm (we'll come back to that later) and we got ready to return home.  The trauma nurse explained that they probably didn't have any slots free, but that we should go home, do nil by mouth from midnight (standard practice just in case) and then call first thing in the morning (Thursday) to see how things lay.
We left and headed home.  Not really sure of what would happen next.
As it happens, what happened next was that we didn't need to call them in the morning, because they called us first.