I had a camera when I was a kid, or maybe I borrowed my mum's or sister's camera, I'm not sure.  I know that it used 110 film though, because that I remember very well.    At some point, we changed to a 35mm instant camera, and I remember finding the film depressingly complex compared to the 110, and blew a few trying to wind it onto the spools and failing (before any of that stuff was automated).
I enjoyed taking photographs, and remember one school trip to Warkworth Castle, or maybe it was somewhere in York, when I took lots of photographs, mainly of ducks.  One teacher had words with me, about wasting film on ducks, but I quite liked the idea of taking some wild life shots.
They were all terrible of course, pointing into dark corners, from the shadows, photographing ducks on a dark background with a 200 ISO film or something similar.  It didn't worry me though.  I took a camera on a school narrow boat holiday, where it seems I took a lot of photographs of bridges.  These are scans of the original prints (from the mid 80's).
Later on at school, while I was doing Art O Level, I took many photographs of headstones, graves and graveyards.  I don't have any of those scanned in.
By the time I went to university (well, polytechnic at the start), I enjoyed capturing memories with a camera, but I wasn't too worried about the technology, so I was still using point and shoot 35mm cameras, although they had improved and I wasted fewer films.
I took a lot of photographs of food, cooking, BBQing, and the aftermath (as well as a very large number of photographs of people, which mostly, I'm not going to post).
After I left university, I took fewer and fewer photographs, because I had fewer and fewer reasons.  I did take a camera to Ireland however.
But I didn't take a camera to Egypt (in 1995), but I took copies of the ones Dave and John took (with their proper cameras).
I took photographs at live action roleplaying events with a 35mm film camera, and various photographs of ordinary life but it was still mostly just a way of capturing memories, rather than taking photographs as an activity.
In 1999 I bought a Fujifilm DX-10 digital camera.  Despite the small memory size and the painfully slow transfer rate it was a bit of a revelation, take as many photos as you like, delete the ones you hate, keep the good ones.  Of course, who ever deletes the rubbish ones?  Even then hard disk storage was cheap enough not to delete anything, and so suddenly I had a million photographs of everything.  Life, weddings, cats, live action roleplaying, day trips, holidays, etc.
Mixed in with these were film shots (still) and lots, and lots, of ducks (and geese, and swans, and cats, and squirrels).
After a while with the DX-10 I got frustrated with the quality in low light (bad), and the other limitations (fixed lens).  Greté had talked about getting a new camera, so in 2007 we bought a bridge (Panasonic DMC-FZ8), although they didn't call them that at the time, with 12x zoom, and a whole new world opened up.  Naturally, Greté never got a chance to use the camera because I stole it and immediately started to discover I enjoyed taking photographs for the sake of themselves, including macro photography.
I loved that camera, I loved what I could do with it, and through it, I discovered a love of taking pictures for their own sake.  I thought it was a bit big and bulky though, and sometimes I felt I wanted something a little bit more convenient, so last year I bought a compact camera (Panasonic FS18).  Within weeks, I was both amazed and depressed with that little camera.  Going from the 7 megapixels on the FZ8 to the 16 megapixels on the FS18, and the rest of the technology improvements, meant the pictures just looked amazing.  Larger, and better detailed.  But the zoom was 1-4x, and I just felt that I was missing the kind of shots I loved getting with the FZ8 where I didn't need to be so close to the subject.  On the other hand, the macro mode on the FS18 is simply stunning for the size of the camera.
I can trace my current camera ownership from the point at which I bought the compact.  The increase in pixel density, the better optics, better software, but the lack of zoom and the lack of control of some aspects of the camera meant that within weeks I was pining for something better.  I'd talked to Greté already of wanting to own a DSLR, before I bought the little Lumix, and I'd talked it over with myself about a hundred times.  But once I got the Lumix, it was clear to me I was either going to buy a better bridge camera, or go the whole hog and get a DSLR.
Then I passed my driving test (and it was half the cost, overall, that I'd budgeted).  When you're 18 and you pass your test, your family might buy you something.  When you're 42, you get to buy yourself something.  So I splashed out on a Canon 600D.  I'm sure you'll be seeing a lot of photographs from me (and already have been if you're a friend of mine on Facebook).  So, apart from the DX-10, which is currently MIA, here's a short camera journey, with the last one taken from my phone.
Using the Canon 600D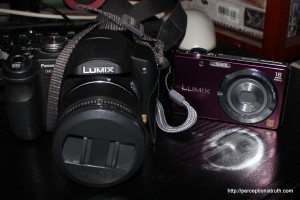 Using the Panasonic DMC-FZ8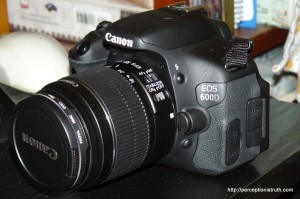 Using the Panasonic FS18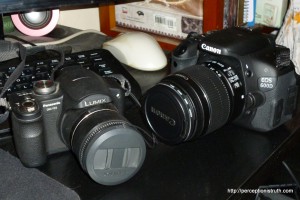 And using my mobile phone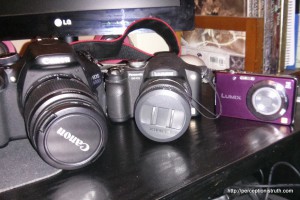 Amusingly, I like the FZ8 shot the best, but that's just user error with the Canon 600D!
I don't expect to ever be as good as my cousin, but I think I'll continue to just enjoy capturing memories, and creating the occasional piece of art.