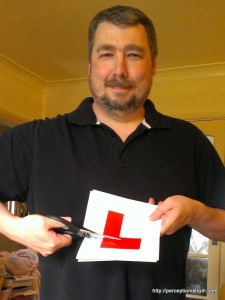 I had my first ever driving lesson, and my first go behind the wheel of a car, on May 8th 2013.  Today, August 14th 2013 I passed my practical driving exam (at the age of 42), and am now allowed to drive a car on my own, including on the motorway.
Twenty six hours of formal lessons (mostly 2 hours at a time), over 16 weeks.  Don't let anyone tell you that getting older means you can't learn to do something new, or that it's going to take much longer to learn to do it.
But if you are going to learn to drive, get insured in someone's car (partner, parents, friends), and get out as much as you can between lessons.  In lessons, you want to be focussing on the high level stuff like handling traffic, manoeuvres, anticipation, planning, etc.  You don't want to be worrying about what your feet and hands are doing with the actual controls – you want muscle memory doing that as quickly as possible, and that's what practice outside of lessons will give you.  I drove almost every day between lessons, certainly as often as I could, because I have a patient and understanding wife who gave me all the support I needed.
I won't insult people and say 'if I can do it, anyone can', because I hate that phrase.  But if you're thinking of learning to drive but you're worried you've left it too late – don't worry, give it a shot, I'm glad I did.
I drove to work and back today, without L plates, and it felt pretty good.  The drive home was rubbish of course, crunched the gears, stalled it once, and then stalled three times trying to put the car on the drive.  In all the time I've been learning, I've only stalled once getting the car on the drive.  Typical – but I don't care, all that matters now is that I remain safe and considerate on the road and that my skill level can only increase going forward.
It's been fun, terrifying, hard work, I hated the hours before the lessons, enjoyed the lessons for the most part, and then felt like an idiot for the hours after them, but it's all over, and with luck, I'll never have to do it again.
If you're learning, or thinking of learning, good luck, try and enjoy it, and I'll see you on the roads.