One thing I didn't talk about much in the first post in this series (here), was the sick feeling in my stomach from the moment I got out of bed on Wednesday the 8th May until the moment I sat in the car for the first time.  I was pretty nervous, in fact thinking about it now makes me nervous in a sort of sympathetic reaction that I'm not in control of.  After I got back from the drive, and my legs had stopped shaking those nerves had clearly gone away.
So a week later, I wasn't sure how I'd be feeling.
As it turns out, pretty much the same.  My second lesson was booked for Wednesday 15th May, starting at 6pm to let the traffic die down a little.  Thanks to an alignment of planets, that week also included having someone come and look at a damaged window frame, having our old sofas removed and taking delivery of two new ones.  Thanks to both an alignment of planets and the Rule of Sod, all the sofa action was also planned specifically for the 15th May.  We've already covered how relaxed I am about planning, so let's just say that both I and Grete could have done without everything converging on the same day.
In the end, the sofa stuff meant I wasn't really thinking about the driving lesson until it was all delivered and sorted by around 1pm.  After that though, the nerves kicked in big time.  My instructor arrived a little early so I didn't have to do too much pacing before getting into the car.  This time, we did the setup outside my house, and then I was off and driving straight away.
Right-turn out of our street onto a reasonably busy road – stalled, stuttered and then got moving.  Not a great start, but the instructor tried to relax me by saying everyone has issues in the first 15 minutes of a lesson.  We followed the route I normally follow to work (which was both good and bad) for a little while and then turned up towards the A52.  Up to this point, braking had been too sharp still, and I appeared to have totally forgotten how to pull away from junctions.  After crawling up a hill in first, to avoid having to stop and start behind a queue of traffic, we made it across Bardills roundabout-bout and were on our way into Stapleford again.
We passed, and were passed by, a lot of learner drivers so I guess the whole of Stapleford is awash with them.  It's full of quiet side streets, so I assume drivers get a lot of chance to practice stuff, and boy did I need it.  It appears my first week was beginners luck – or at least that's what I thought until my instructor told me off for over-thinking things.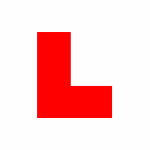 I thought about that (yes, irony) and realised she was right.  Now that I'd had some practice, I was trying to think about everything at once, despite still not really having much clue how to actually drive.  She suggested I stop thinking about more than one thing at a time, and just focus.
Coming up to the junction – worry about speed first.
Once the speed is right – then worry about road position.
Then think about which gear you're going to need to be in.
Then think about if you need to stop.
Obviously that's a generalisation, but once I stopped worrying about speed, position and gear at the same time, I stopped screwing up quite as much.  I still sometimes put on too much gas before I was in gear, or lifted the clutch too quickly, but that's just going to take a lot of practice.  By the end of the two hour lesson, I was driving much more smoothly, and when we left Nottingham and headed back out towards home, without instruction since I knew where I was going, it was all-together much better than it had been.  I even managed to come to a stop a couple of times without putting our noses against the windscreen.
One thing I absolutely improved on during this lesson was using the mirrors.  I'd looked at them previously, but now I was looking in them and seeing things, and I was remembering to check them.  However, I have a propensity to check the left mirror a lot.  My instructor made the same observation, and I reminded her that after being a passenger for 30 years, that was the only mirror I ever had, it was going to take a long time to give it up.
Of course, I've skipped over the 40 minutes of absolute terror in the middle of the lesson.
This is the route we took.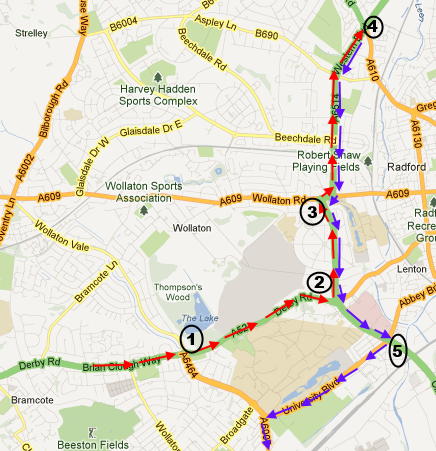 I'd like to say a few words about the numbered locations.
1: This roundabout is freakin' huge.  Luckily, we were going straight on, and I was feeding left into the lane that stops being a bus lane just before it.  Also, it's traffic light controlled, so even though at this stage I was still struggling with the whole being in control thing, it wasn't too bad.  But you know what?  And if you drive this route, you already do know what.  The road after this roundabout, at 6:30pm, is always stacked with traffic, and two lanes merge into one (that should be a song).
My instructor advised me to keep left, and keep up with the car in front, so that people behind me didn't take advantage of the gap.  I failed 3 times, but as I finally got the confidence needed to keep close to the car in front, there was a moment of pure joy.
As I looked in my right-wing mirror I could see a car right on the back of me about to come past, and as I closed the gap and they realised they wouldn't be able to, and they were going to be stuck behind me for the rest of that road to the next junction, the look of pure frustration on the driver's face was enough to keep me upbeat for the rest of the lesson.
2: My instructor said, we're going left, which was fine.  Then she said something about 'starting checking you can filter in when we pass the concrete'.  My brain was still trying to absorb that when I realised we were indeed running out of filter lane, and I was going to have to move into fast moving traffic on my right side.  I remember looking in the right hand wing-mirror, and seeing a car, and then thinking, "okay, so what do I do now?".
I did filter into the traffic, I'm just not sure how.  I think there was some instructor 'encouraged' braking and maybe some instructor 'encouraged' steering, and then we were on the road and moving forward.
She did say that she likes to just drive and learn as you go, and I think it kind of suits me, but I'll be honest, I was surprised to find out I was filtering right with only about 25 meters of filter lane left.
3: If you live here, you know this roundabout.  I know it.  I hate it as a passenger.  I'm pretty sure I hate it as a driver, except, I can't remember it.  Trauma induced amnesia clearly.
4: We drove up here, and then went somewhere else for a bit.  Your guess is as good as mine, I'm still trying to work out where the piece of my brain that handled number 3 is hiding.
5: When we first moved to Nottingham, this roundabout used to cause consternation for Grete.  It's often busy, it's badly marked out, and it's populated by angry people trying to get home.  I think I did quite well all-told to survive getting around it.
After the roundabout at number 5, I just drove home.  I'm pretty sure the instructor wanted me to, but I was going to anyway quite frankly.  I'd just blocked a guy from getting ahead of me, navigated what I think to be the three worst roundabouts in the bit of Nottingham I know, and had filtered into fast moving traffic using some kind of magical 'please don't drive into the idiot' sign.
As we pulled into my street, and picked a place to pull over, I promised my instructor that I would actually stop the car this time before getting out.  She laughed, I think it was just a laugh, it might have been a slightly terrified release of tension, hard to tell.
It was time for more tea.  Lesson number two, done.