Took the chance to take a few more screenshots and show you why outfits are good.  They're good, because without them, your characters in LOTRO might end up looking like this.  First up, my Hobbit Warden wearing his actual equipment (click any of these images for larger versions),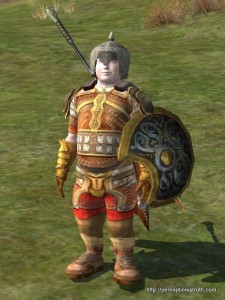 The hat is terrible, the pants are bright red for heaven's sake!  Here's how he looks in his regular fighting garb, complete with a Warden's Javelin Pack (cosmetic only item, which replaces the cloak),
His third outfit isn't much different, except he has no pack and it's a more relaxing green, for maybe hanging out in taverns, which clearly he never does, being a Warden.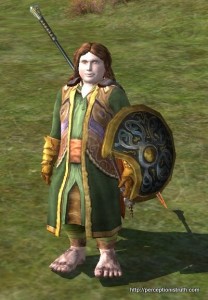 Then there's the Dwarven Rune Keeper, who looks even worse in his actual gear.  Who in their right mind would leave the house dressed like this?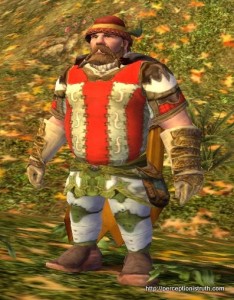 That's a clear and defined reason for the existence of the outfit system, in my view.  Anyway, here's his regular hunting garb (robe and backpack, the pack is again a cosmetic replacement for cloaks),
And finally, the Rune Keeper's last outfit, for when he needs a more distinguished look, maybe while smoking some pipe weed with friends in a library somewhere,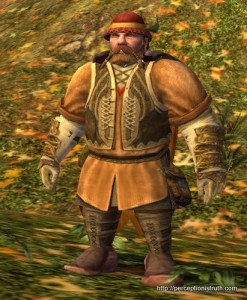 I guess he could do with losing the gloves on that outfit.